Direct Prompt v 1.2 was written to replace other overpriced teleprompting software solutions. There are many titles that offer unnecessary features to compensate for poor scrolling. Direct Prompt has essential features with the finest scrolling on the market at an affordable price. Soon, Direct Prompt v 2.0 will incorporate additional features, and be bundled with a new line of studio quality teleprompter.
Direct Prompt v1.2 offers:
- Dual Monitor Support
- Ultra Smooth Scrolling
- Simple Prompting Controls
- Ability to Mirror Output
- 2 Color Modes (White on Black or Black on White)
- Left, Centered or Right Text Justification
- Displays Simple Text Files
- Leading Technology
- Affordable Price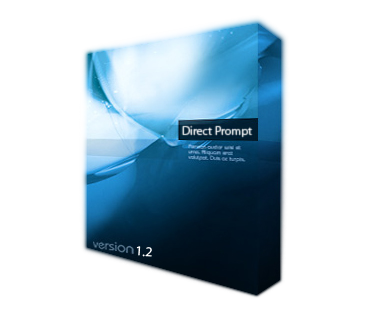 Direct Prompt v 1.2
Available Now
Direct Prompt's current low priced, and powerful teleprompting solution. It has become the de-facto standard for students in high school, college, and professionals looking to strengthen their communication skills.

Direct Prompt v 2.0
Jan 2009
Soon to support RTF, Word Doc, and HTML
On the Fly Text Editing
Color Options, and Font Choices
Ability to scroll images
Many more features at a low price!
Direct Prompt
Studio Prompters
Direct Prompt has designed a line of studio quality teleprompters to be released with Direct Prompt v 2.0
The bundle will make teleprompters affordable for all to own and use